CAGES
Bespoke cages to customer specific design requirements for transport, material

handling, warehousing. Standard cages for movable stores.
more details


ROLLCAGES
Demountable and Nestable Rollcages for the Retaling. Trolleys for order picking.
more details


WIRE BASKETS
Folding and stacking baskets, dollys and metal pallets.
more details


STILLAGES
Metal stillages.
more details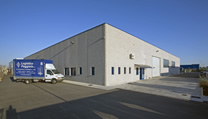 Since over 40 years our company design and manufacture metal cages both in standard and specific dimensions according to our own or the customer's design. The production of metal cage and rollcages is made with state of the art machineries and first-choice materials by making a constant control of the entire production cycle in order to guarantee high quality, robust and long lasting products. Our metal cages can be made in galvanized wire or moulded sheet of different diameters and thicknesses, square or round tube. The metal cages are stackable and folding to facilitate transport and storage operations. The metal cages can be fitted with castors, metal or wooden pallets.











Our
aim
: to keep products moving.

- Marketing, planning, production and distribution are focused on the customer.
- Every inquiry is important for us.
- We offer consultancy, products and services to satisfy and exceed the customers expectations.



People are the first Company Resource:
- We operate firmly to grow in training, motivation and involvement.



We offer:
- A professional environment.
- Constant confidence.
-Collaboration inside the organisation and with the customers.
- Distribution of responsabilities.
- Communication and collaboration between the Employees, the Customers and the Suppliers.



We work with the greatest care to improve ourselves and our offer through the latest technological innovation and distribution organisation, continously improving our efficiency and effectiveness to guarantee the growth of the sales relations with the customers satisfaction.